Photos of Past Events
Photos of past events
Buy a gift day-  On Friday 9th March, the Friends of St Clements have sold gifts to the children for £1.00, for the ladies in their lives who they love and look after them. Special thanks to Mrs Loftus for wrapping and selling the gifts. The total raised to benefit all children in our school was….£137 so far. Thank you for your support.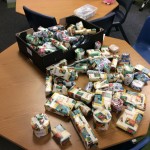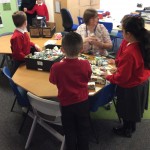 Valentine's Disco-On Thursday 15th February 2018, our Friends of St Clements group organised two Valentines Discos after school. We all enjoyed a boogie with DJ Nield and a goody bag!
Thanks to the Friends Group for organising and supporting the event and to the staff who stayed to supervise the children. Another good night that raised £178.50 towards resources and trips for all children in our school- Thank you Parent/Carers & Children.
Christmas Fayre-On the night of Tuesday 5th December, we had a brilliant Christmas Fair, Father Christmas came to visit, along with his elf and there were some great stalls such as tombola, face painting, nail painting, delicious food for sale & the fantastic raffle- it was so popular this year that I was on my third book of raffle tickets!!
A massive thank you to all of our parent/carers, pupils, friends, governors, members of the community for their support that resulted in us making over £1,000! The money will be used to buy resources, fund trips etc that will benefit all pupils in school.
A final thanks to the Friends of St Clements who have worked hard for months in preparing for the fair- the evening wouldn't have been as good without you and we appreciate all you do.
Summer Fayre- Thank you for supporting our Summer Fayre on Tuesday 4th July. We raised £390.31. This will go towards educational visits and resources for all of our children. The face painting and hair braiding was very popular and the teddies had all been adopted by 4pm!
Thanks to the members of The Friends of St Clements for their support in organising and setting up for the event.
St Clements Got Talent- On Thursday 8th June, a good time was had by all as we were entertained by our very talented pupils last night at Stanley Street Club. It was a hard decision that the judges had to make from all of the brilliant dancers, singers, musicians and gymnasts, however the winners were: KS1-1st – Neide Cahalo, 2nd – Lincoln Brownridge, 3rd – Olivia Callaghan and Macy Bonnar and in KS2- 1st – Ty Simmonds, 2nd – Mia Singh, 3rd – Sonny Gibbons and Special Mentions: Brandon Whendero and Ella Moss.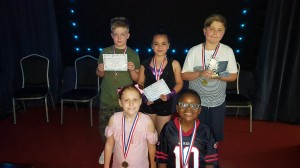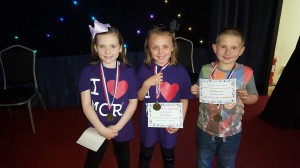 Movie Night-Monday 24th April 2017
A profit of £109.51 was made from the Friends of St Clements Movie Night. Thanks to all of those children who come along and to Mrs Loftus, The Friends Group, Staff and Volunteers who helped at the event.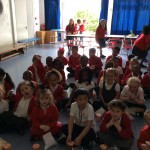 Year 5 and 6 Tesco Bag Pack-Saturday 25th March 2017
Our Year 5 & 6 pupils & a group of staff did a bag pack at Tesco in Gorton last Saturday. They managed to raise £582.00 on the day- figure now rounded to £600.00. Thanks to all of those pupils and staff who gave their time & to Tesco & their customers for their support.
Friends of St Clements Family Quiz Night-Monday 10th October 2016- A good night was had by all the teams who took part in the quiz night on Monday. The winners were the team appropriately called 'The Winners' also known as the Miloudi family! We raised £65.00 from the event to go towards resources and trips for all children in school.
Thanks to those parent/carers for getting involved, Mrs Loftus for organising the event, Joanne for producing some lovely food, Mrs Shaw for setting the questions, Mr Nield for being a brilliant quiz master, Miss Allen for being the quiz master's assistant and Miss Austen for giving her time to support the event.
Macmillan Coffee Morning-
For the 3rd year, we have supported Macmillan Cancer Support by fundraising at out coffee morning. Thanks to all of our parent/carers who came along to have a drink and a piece of cake and we have raised £307.93 to send to Macmillan. We also hope you enjoyed visiting your child's class and seeing how we teach writing at St Clements. You can carry on practising with your Friends of St Clements pen! Thanks also to our Friends of St Clements who organised the refreshments and the free gift of the pen for every parent/carer.