Worship
Please take a look at our Worship Rota for 2016/2017 Academic Year-WORSHIP ROTA latest edition
Each term in our Worship we look at a different part of the Christian Values. This term we are looking at Faith and Love. We have created a document to show some of the things that are discussed during our worship times in regards to the Christian Value-  The Christian Values this half term are Faith and Love
Reflection Session for Pupils- Our pupils at St Clement's are encouraged to explore and develop their own spirituality by reflecting during and after our collective worship. Around our school we have different areas where the children are encouraged to write their own prayers. A reflection room been set up and runs each Friday afternoon from 2.45pm-3.15pm. Mrs E Ward (Chair of Governors) and Mrs N Ward (Parent Governor) will be available in the reflection room for the children to visit and have a short time of reflection. The children will be able to share or just take time out from the day. The room will be open for all faiths to attend.
Here at St Clement's Primary School we have close links with our local church St Clement's church. Please find a link to the local church website:
https://www.stclementschurchmanchester.org/ 
On their website they have information about the events that they hold and how to get in touch with them.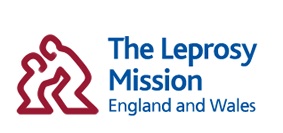 Leprosy Mission- CAN YOU HELP!!!! We collect used postage stamps!!!
It is hard to believe that a bunch of used stamps can help transform the life of someone affected by leprosy. But the fact is that it can!
Over the past 30 years, TLM Stamps & Collectables has raised more than £1 million to benefit people affected by leprosy. It takes seconds to rescue a used stamp from an envelope destined for the recycling bin but, by doing so, healthcare and opportunities can be provided to people in desperate need.
If you have any used postage stamps that you want to give towards the Leprosy Mission then please bring them into school.
Worship Team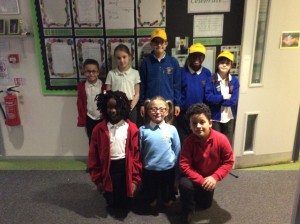 Please find below pictures of Worship events that have taken place in school so for this term-
Worship Awards Assembly
This term we have been we have been particularly focusing on the Christian Value of Thankfulness and Love. On Friday we had our first Worship Awards assembly where children were given awards and prizes from their class teacher as they have been showing parts of the Christian Value we have been looking at.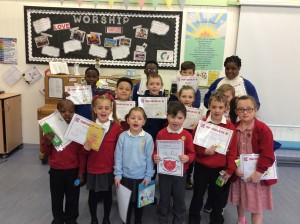 One of our Foundation Governors, Zoe Mackel, led worship about being Thankful- our Christian Value for Spring 2 half term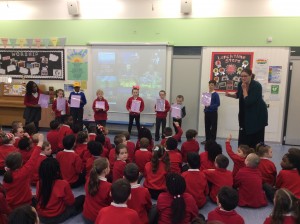 Worship Visitor- Ken from Pharmaco Chemists
On Monday 6th March, Ken the Pharmacist from the Pharmaco Chemist on Abbey Hey Lane, came to our worship to talk to our Year 1-6 pupils about how to keep safe and healthy and what a pharmacist does and how a pharmacist can help you. The children learned so much from Ken and he was also very kind to us- he provided each child with a healthy banana for snack time and donated £51.00 that school gave to the Friends Group funds. He also wants to support future fundraising too.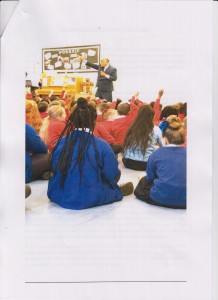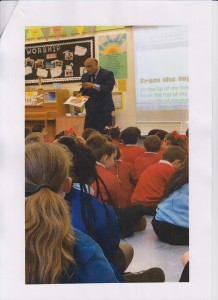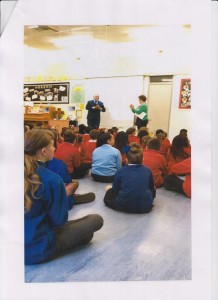 Thank Your Vicar Assembly- On Wednesday 19th October, we held a special worship for our vicar, Reverend Paul. Instead of him leading worship, he had the morning off and our children led the worship to thank him for all that he does in school and in the local community. We learned about the different things that he does and each class made him a gift. We also bought him a football cake to enjoy with his family. Thank you to Reverend Paul, we are fortunate to have you as our vicar.
Harvest- Thursday 20th October, we held our Harvest assembly in school. We got many donations of tinned vegetables and food to donate to the Greater Manchester Winter Night Shelter, held once a week at St Clements Church. Wendy from the Night Shelter came over to talk to us about the work they do and it again made us think about those who are less fortunate then ourselves.
Thank you for your donations and also to Ms Nichol and Miss Naylor who arranged the assembly.
Reception Class Welcome Service- We welcomed our reception children and their families to our school on Friday 21st October, at our special welcome service held at St Clements Church.
They sang beautifully and received a Bible from our friends at the church. The other classes made some lovely gifts for our reception children and the prayers they said were beautiful too. We know that our reception children will be very happy in our school.
Thank you to our parent/carers for their support at the service: Miss Eyres, Mrs Williams and Miss Crolla for the work with the class and Miss Naylor for the arrangements she made at church.
Whole School Ethos Day- On Friday 11th November, we have held our first whole school ethos day. During the day, the children in each class learned more about our school's 7 Christian values- love, faith, hope, honesty, kindness, thankfulness and respect through art, drama, writing and speaking and listening. Our school worship team also got themselves involved by helping in the different classes and explaining about our Christian values.
At the end of the day, we had a collective worship to show what we had made and learned and we look forward to putting our work on display in our class reflection areas and around school.
Thank you to those parent/carers who came into support their child and we hope that you learned more about our Christian values too.
Thanks also to those governors who came into help us. Finally, thank you to Ms Nichol, who organised the activities and made the preparations along with Miss Naylor.
Welcome to Canon Maurice- During the morning of our ethos day, Canon Maurice Smith from the diocese also came into school to see what we are doing and to talk to staff, governors, pupils and parent/carers as part of his pilgrimage to all schools in the diocese. He continued his pilgrimage to St James' in Gorton, by walking with our Year 6 pupils and staff to the Abbey Hey cenotaph where he joined in our annual service of remembrance and laying of wreaths.
Operation Christmas Child-On Thursday 17th November, Mrs Lavelle came into school to talk to the children about Operation Christmas Child and what happens to our donations of stationary, toys, sweets, clothing etc. She told us some emotional stories about the power of the shoe boxes and when children receive our gifts, how happy they are.
Thank you to Mrs Lavelle for coming in and for delivering a worship that made us think and also to Miss Naylor, for organising the collection of gifts.
Finally, a big thank you to all of our children and families who supported this worthwhile cause.