Prefects, Buddies and the Sports Council
Prefects
Led by our Head Boy and Head Girl, our Year 6  contribute to the calm and friendly atmosphere we enjoy around the school, supporting other children at lunchtimes, administering our Awards Assembly and acting as role models for the other children. This is the spearhead of our Peer Mentor ethos which encourages children from Key Stage Two classes to take responsibility for their school. 
Buddies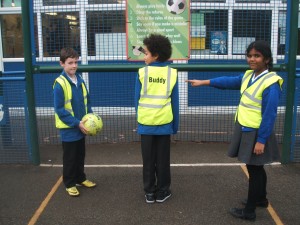 The buddy system which runs at lunchtime is our way of encouraging children to support each other and take responsibility for their school community. Year 5 'Buddies' help to run lunchtime activities and organise resources for younger children to use. The Friendship Garden, situated in a quiet area between our playgrounds, provides an opportunity for children to meet and make friends or to talk with one of their peers about any problems they are having.
With the opening of our School Library, children from KS2 now have the opportunity to become Reading Champions; spending quiet time sharing some of their favourite books with children from Key Stage One.
Sports Council
We are about to set up our first Sports Council. Children from KS2 will assist the School Leaders and PE Lead to plan sports events, decide what equipment we need and chose what afterschool and lunchtime sports take place in school. They are also responsible for the administration of the Sports and PE notice board where children can find out about all the events, matches and competitions the school is involved in, as well as what clubs are running during term time and in the holidays.
We hope that the pupil voice survey we plan to conduct later in the year will show how far we have come in developing provision and we are working towards achieving our Silver Kitemark Award.