Curriculum
Worship
The Christian Values we are particularly focusing on this half term through our Worship sessions in our classes and online are Compassion and Love
We will be looking at why being compassionate is important and discussing how children can show compassion in their lives.
A special values worship is usually held in the final week of term to recognise, celebrate and reward two children from each class who have shown these values throughout the half term.
What do we do in and out of school in response to Compassion?
At St Clements' we pride ourselves in looking at the wider world. Every day we look after each other and show our Christian Values. For many years we have showed our compassion to others around the world. We have supported Manchester Night Shelter at St.Clements' Church who help homeless refugees, collected stamps for the Leprosy mission and held coffee mornings to raise money for charities. We collect for the most vulnerable and disadvantaged members of the community through our Harvest appeals and we support our local food bank.
We believe that Compassion is:
Walking in someone else's shoes, understanding how they feel, and striving to do something to help.
Understanding the suffering of others and wanting to help.
We believe in the words of Luke 6:31 Do to others as you would like them to do to you.
In our worship we will be looking at what the Bible says about COMPASSION and LOVE.
We will explore stories and readings from the Bible around the theme of Compassion and Love such as; The Feeding of the 5000 (Mark 6:34-44, Matthew 15:29-39), Zacchaeus (Luke 19v1-10), The Good Samaritan (Luke 10:25-37), The Greatest Commandment (Matthew 22 v34-40), Daniel and the Lions Den (Daniel Ch6), Noah and the Ark (Genesis ch6-8).
A message about LOVE
We believe that every child is special and that we are privileged to have them in our care for their primary education. Every pupil at St Clements' is treated equally but that doesn't mean every child is treated the same, as we acknowledge that every child's needs are different and must be met in different ways.
The Christian value of Love underpins everything we do in our school. We believe that through a focus on LOVE, we can work together as part of a strong and supportive family.
Matthew ch 22v38 " LOVE YOUR NEIGHBOUR AS YOURSELF"
Additional Worship Information
Our current PSE Heartsmart theme "Too much Selfie isn't Healthy" will form part of our worship at St Clements during the first part of the Spring term. This will be closely linked to our values of Compassion and Love.
'In Too Much Selfie isn't Healthy' we recognise that there are more people in the world than just us. We develop empathy for others. We learn to look up and look out at the people around us and ask what we can do to help. We use the story of this Collective Worship we use the story of the 'Feeding of the 5000' to find out how one small boy did just that!
We also learn to recognise and be sensitive to how others are feeling. We learn to share in others joy and also in their sadness. We call this empathy. We learn about empathy and standing by others in their distress through the story of Naomi and Ruth from the Bible (Ruth 1).
BIG questions- Through collective worship, children will also be encouraged to think and discuss questions.
Here at St Clement's Primary School we have close links with our local church St Clement's church. Please find a link to the local church website:
https://www.stclementschurchmanchester.org/
On their website they have information about the events that they hold and how to get in touch with them.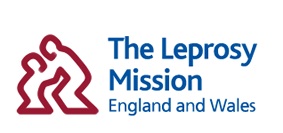 Leprosy Mission– CAN YOU HELP!!!! We collect used postage stamps!!!
It is hard to believe that a bunch of used stamps can help transform the life of someone affected by leprosy. But the fact is that it can!
Over the past 30 years, TLM Stamps & Collectables has raised more than £1 million to benefit people affected by leprosy. It takes seconds to rescue a used stamp from an envelope destined for the recycling bin but, by doing so, healthcare and opportunities can be provided to people in desperate need.
If you have any used postage stamps that you want to give towards the Leprosy Mission then please bring them into school.
Worship in school
Class Reflection Areas
Each classroom has a space for children to go to reflect- this could be sitting quietly, reading a book, drawing a picture, looking at the special things in the area or writing a prayer for the class prayer box.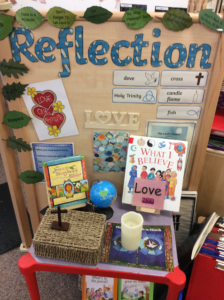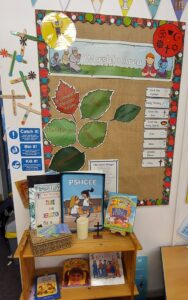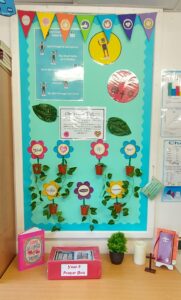 Worship events:
Reception Class Welcome Worship
On Wednesday 20th October, we held our Reception Class Welcome Service. The children enjoyed the special service at St Clements Church and joined in a song that they had practised. We all prayed and sent special wishes to our reception pupils for a happy and successful time in our school over the years to come. Each child then received their own Bible and everyone clapped one another as Mrs Parker and Curate Dan called out the names.
To finish, each class presented a gift to welcome our reception class- beautifully made cards, nice books to read and a plant to look after too!
Here are some photographs from the service:
Thank Your Vicar Worship
On Thursday 21st October, we thanked Reverend Paul and Curate Daniel for their hard work in school and in our local community. We learnt more about what they do and each class gave them a thank you gift.
Thank Your Vicar Week gives our Church of England primary school the opportunity to say a big thank you to our vicar. We held a worship in school to present them with their thank you cards and gifts for all they do in our school & community.
Harvest
On Thursday 8th October, we held our Harvest worship in classes. We usually have a church service. Unfortunately this could not happen so harvest themed worship took place in classes throughout the week.
We ran a charity collection from now up until half term. Packaged and tinned items along with toiletries such as soap, shower gel, shampoo, toilet rolls, sanitary and baby products were very welcome and appreciated.
A big thank Thank you to parent/carers for their kind support and assistance for adults and children in crisis in our community.
Thanks to those families and staff who donated and also to Mrs Rogers for her organisation of our Harvest worship.
Poppy Appeal/ Remembrance Day 2021
Again this year we have been supporting the Poppy Appeal. This year, the Royal British Legion, have not sent their usual paper poppies into school for us to sell. They have sent us poppies to help those wounded in service to our country & their families. Thank you to all the pupils and families who have donated to this cause.
On Wednesday 12th November 2021, our Year 6 pupils went to pay their respects to all those who sacrificed their lives fighting for our country so we can live as we do today. Mr Evans, Mr Nield and Mr Thirsk took the class to Abbey Hey cenotaph where they looked at the names of local people who had died. Prayers were read and poppy symbols were also left to show our respect and gratitude.
In KS1, the pupils learnt about remembrance day. Year 1 had a go at making their own poppies and a beautiful poppy wreath was made by pupils in Year 2. Year 2 have also been writing about poppies and soldiers during ww1!