Information
COVID 19 UPDATE NOV 2020:
National restrictions from 5 November
Applies to: England (see guidance for Wales, Scotland and Northern Ireland)
COVID-19 case numbers are rising rapidly across the whole of the UK and in other countries. We must act now to control the spread of the virus. When we reduce our day-to-day contact with other people, we reduce the spread of the infection. That is why, from Thursday 5 November until Wednesday 2 December, you must:
Stay at home, except for specific purposes.
Avoid meeting people you do not live with, except for specific purposes.
Close certain businesses and venues.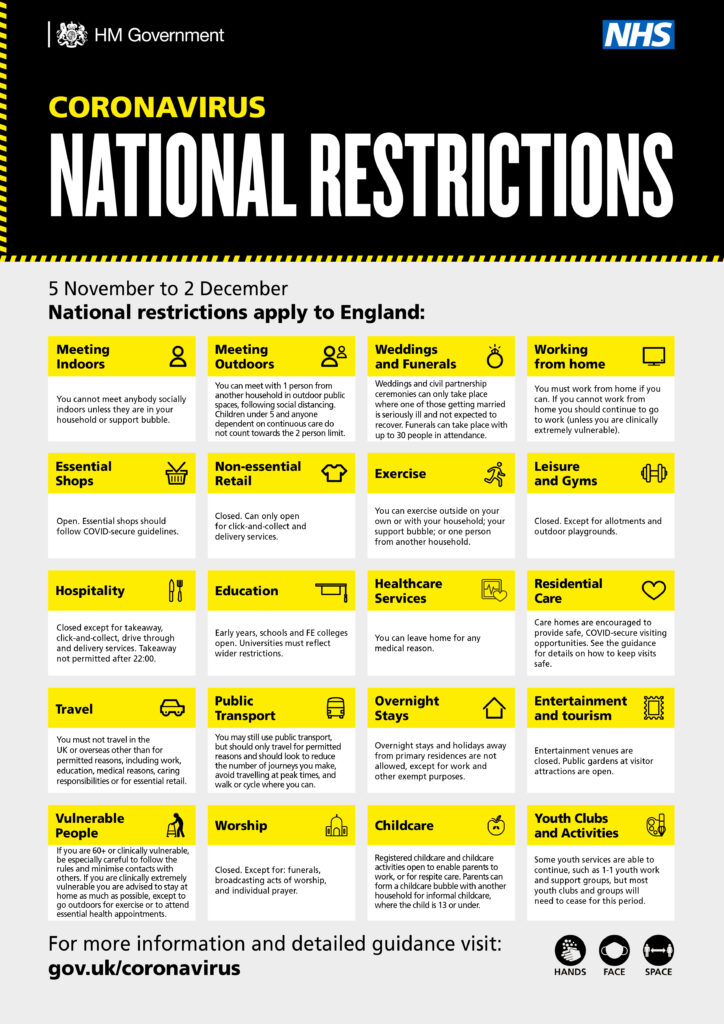 COVID 19 UPDATE OCT 2020:
Notifying School of Positive COVID 19 Test Results:
Please find attached below a letter informing you of what we would like you to do if your child tests positive for coronavirus over the half term holiday. The local authority have asked us to set up this communication over the half term so we can be aware of cases and then inform close contacts.
We would ask that parent/carers email school on:
admin@st-clements.manchester.sch.uk OR Mrs Parker on your personal message pages, not class or whole school pages please.
Thank you in advance for your co-operation
Letter re notification of positive tests over Oct half term
The council have asked schools to remind their communities of the following information:
Our local COVID alert level is now 'very high'.
This means new measures will come into effect from midnight on Thursday 22 October.
These measures include a ban on households mixing indoors and outdoors.
You must not meet with people outside of your household or support bubble in a private garden or in most outdoor public venues.
There will also be closures of some businesses in Manchester.
The poster below shows the further restrictions that come into effect at midnight on Thursday 22nd October: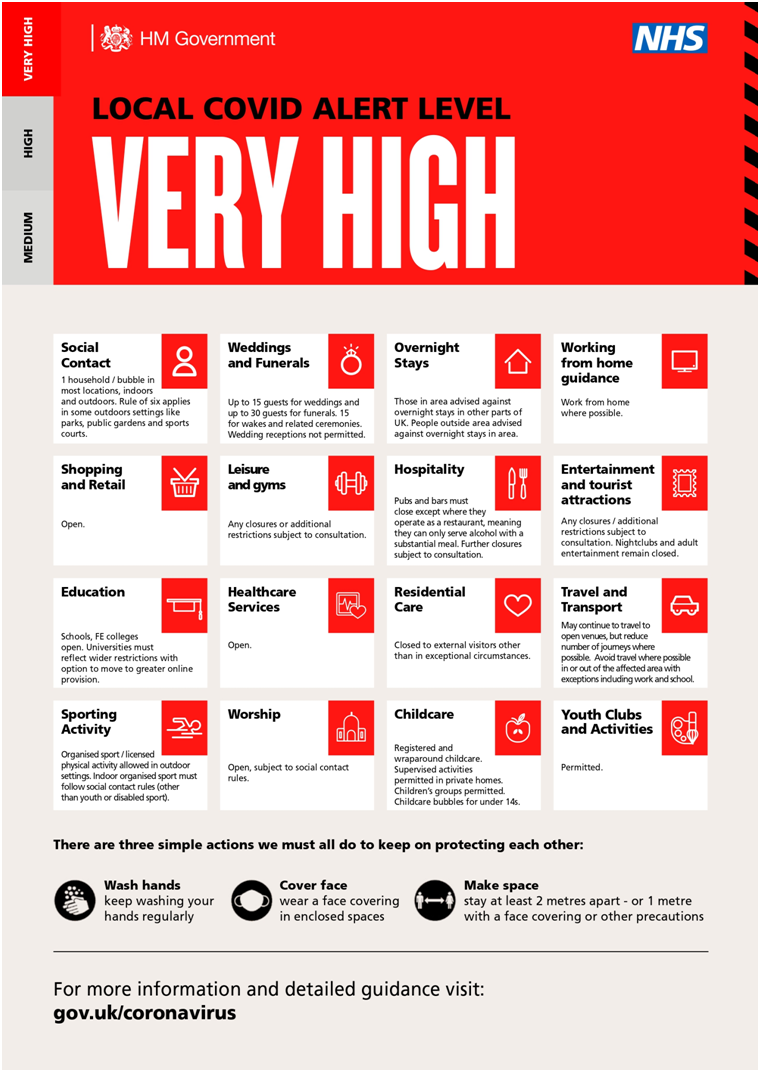 SCHOOL COVID 19 UPDATE:
Staff continue to work hard to ensure that cleanliness and distancing guidelines are followed in school. They are also doing a great job in remaining calm so that the children are learning in a positive atmosphere where they know that they are safe.
Parent/carers- you have continued to be great at keeping a social distance on site and making sure you arrive on time to drop off & collect your child/ren and leave the site promptly to reduce contact with other adults. We really appreciate your support in this.
A reminder again about the symptoms of corona virus:
-a continuous, dry cough
-a high temperature (37.8 C or higher)
-loss of taste
-loss of smell
It is that time of year where seasonal colds are starting. (We have booked in our nasal flu sprays for November!) It is tricky to know if the symptoms your child may have are from a cold or COVID related. So always seek medical advice from your GP or the pharmacist if they are busy.
It is also important to note that if an adult or child does not have symptoms, they should be attending school.
However, if someone in their household has been sent home from school/work because they are presenting with the above symptoms, the ill person in the house, needs to get tested and other children & adults in the household need to self isolate- they need to stay at home and not leave the house for 14 days. Do not go out even to buy food or other essentials, and any exercise should be taken within your home. This 14-day period starts from the day when the first person in your house became ill or if they do not have symptoms, from the day their test was taken.
We have had a few cases of symptoms in school and children and families remaining at home until they or a family member get tested. As a result of this, I have asked class staff to contact families to ask about providing home learning for our children whilst they are self isolating or awaiting the outcome of a test- which at the moment, is taking longer to get. We don't want our children to miss out on any further learning time, that is why we are providing work if needed.
Let's keep on communicating and supporting one another and we will work through this together- Keep Safe.
COVID UPDATE SEPT 2020
As you are aware, school is now open to all pupils. Please check class dojo and the letters below for a reminder of your child's class start and finish times. Please also check class dojo for updates. Thank you.
Reception: R PUPILS SEPT RETURN LETTER
Year 1: Y1 PUPILS SEPT RETURN LETTER
Year 2: Y2 PUPILS SEPT RETURN LETTER
Year 3: Y3 PUPILS SEPT RETURN LETTER
Year 4: Y4 PUPILS SEPT RETURN LETTER
Year 5: Y5 PUPILS SEPT RETURN LETTER
Year 6: Y6 PUPILS SEPT RETURN LETTER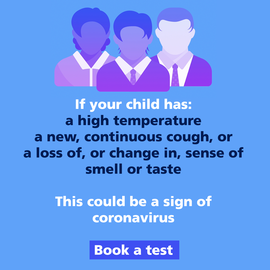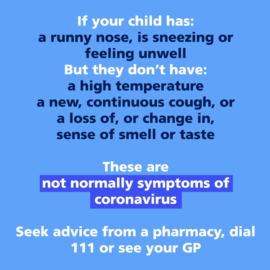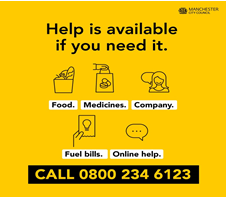 The Council has set up a hub to support Manchester's most vulnerable people, and help them cope with the impacts of the COVID19 outbreak.
We want to help you if you are:

over the age of 70, are self isolating and have no support network,
if you have received a letter from the NHS advising you are high risk, or
you are medically vulnerable according to the government criteria.
We can help with things like:

Delivery of food
Delivery of medication
Combating loneliness
Managing fuel top-up payments
Help is also available for other reasons, for example if you are a carer, care leaver or young carer.Across the City a community of charities, businesses, community groups and the Council have all come together to make sure you have the support you need during this challenging time.
If you need help you can get it now by calling 0800 234 6123.
Please click on the link if you need support-Help and support for those suffering domestic abuse during the Covid19 Outbreak