Pupils
Teacher – Mrs Leigh
Teaching Assistants – Miss Fagan, Miss Thompson, Miss Coombs
Autumn 1
We have been very busy this half term. We had an autumn experience day where we explored the season of autumn. We went on an autumn walk around school to see if we could spot the signs of autumn. We had check lists to record what we saw.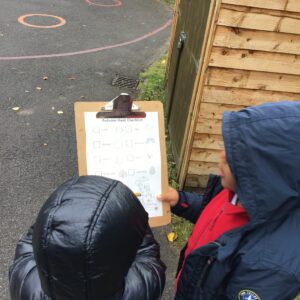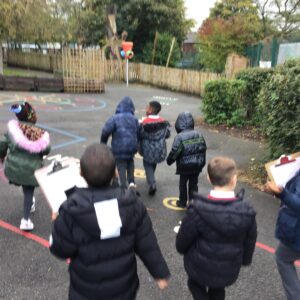 In the construction area we have been designing and building bug hotels or a house for a hedgehog. Some of our houses are very big!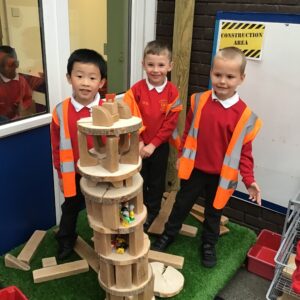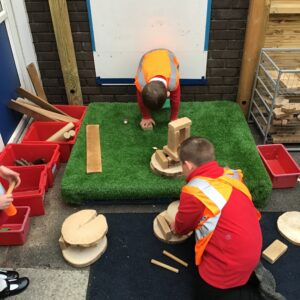 Mrs Leigh set us a challenge to "crack the codes" She put groups of numbers together on cards and we had to type them into calculators and then turn the calculators upside down to see if we could see what words she had written with the numbers. You can see in the picture the numbers 55378 made the word BLESS. We loved this activity it helped us with number recognition and reading.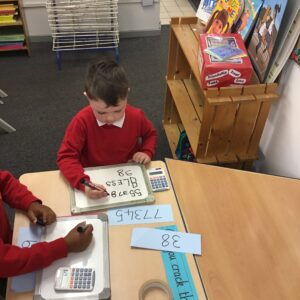 During our art lessons we have been practising mixing colours. We mixed the primary colours to make secondary colours. We are going to use this skill to make autumn tree pictures.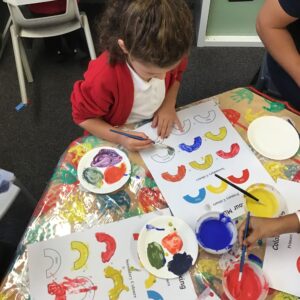 We have loved learning about ICT and the basic skills we need to use a computer. We have learnt how to use a mouse and drag and drop items. We have also used the paint program to draw pictures.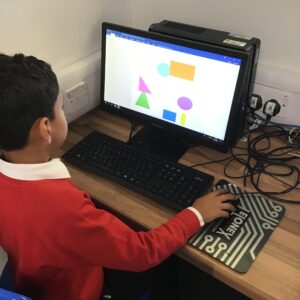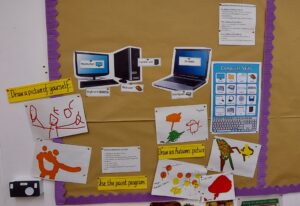 Phonic Screening Check
The phonics screening check is taken individually by all children in Year 1 in England usually in June. It is designed to give teachers and parents information on how your child is progressing in phonics. It will help to identify whether your child needs additional support at this stage so that they do not fall behind in this vital early reading skill.
The check consists of 40 words and non-words that your child will be asked to read one-on-one with a teacher. Non-words (or nonsense words, or alien words) are a collection of letters that will follow phonics rules your child has been taught, but don't mean anything – your child will need to read these with the correct sounds to show that they understand the phonics rules behind them.
The 40 words and non-words are divided into two sections – one with simple word structures of three or four letters, and one with more complex word structures of five or six letters. The teacher administering the check with your child will give them a few practice words to read first – including some non-words – so they understand more about what they have to do. Each of the non-words is presented with a picture of a monster / alien, as if the word were their name (and so your child doesn't think the word is a mistake because it doesn't make sense!).
There is more information for parents on the Oxford Owl Website.
https://www.oxfordowl.co.uk/for-home/at-school/assessment-at-primary-school/phonics-screening-check/
Helpful Links
TOPIC NAME
Science
History
Geography
Art and DT
PSHE
RE
Computing
Music
PE
MFL
Literacy
Numeracy
Year 1

AUTUMN

All About Me
Intro to subject- What is Science?

Animals Including Humans Y1

Seasonal Change (Aut & Winter outdoor learning)

Intro to subject- My Life So Far.

Florence Nightingale

Into to subject- What is geography?

Intro to subject- What is Art?

Self portraits

Study of an Autumn Tree

Remembrance day poppies.

Heartsmart – Get Heart smart

Heartsmart – Don't forget to let love in

Harvest

Why do we give and receive gifts?

Getting to know IT- Basic Skills

Word Processing/

Creating Pictures

Ourselves

Our Bodies

Water

Seasons

Net Games – Balance and control – Striking

Invasion Games – Throwing and Catching

n/a
Labels and lists

Narrative/familiar settings

Instructions

Letters to Father Christmas

Timelines for History

2D shapes linked to self portraits
Homework Leaflet-Homework leaflet
Class newsletter: Y1 Newsletter Autumn 1 & 2 2020
Here is a document to show what Year 1 will look at in Autmn Term- year 1 autumn 2020 topic web