Welcome
COVID 19 Update- As you are aware, school will close from today (17/07/20) for all children for the Summer Holidays. we look forward to welcoming you back on 3.9.20! Please check class dojo and the letters below for a reminder of your child's class start and finish times. Thank you.
Reception: R PUPILS SEPT RETURN LETTER
Year 1: Y1 PUPILS SEPT RETURN LETTER
Year 2: Y2 PUPILS SEPT RETURN LETTER
Year 3: Y3 PUPILS SEPT RETURN LETTER
Year 4: Y4 PUPILS SEPT RETURN LETTER
Year 5: Y5 PUPILS SEPT RETURN LETTER
Year 6: Y6 PUPILS SEPT RETURN LETTER
Translated letters to Parent/Carers from the City Council about Schools Re-opening in September:
T33297-Bangla (FAQ-Attendance Guidance-updated)
Information regarding activities and support over the Summer Holidays:
Summer Activity Camps at the Roundhouse!
The Roundhouse and Children's Centre have got together to plan and organise FREE weekly themed camps, for children aged 7-11, starting from Monday 4th August to Friday 28th August.
Also, every Monday afternoon, there is a Science camp.
Information and booking is through the Roundhouse website & on the flyer attached.
https://www.manchestersettlement.org.uk/community/openshaw-arts-and-play-festival
Get booking- the camps look like a good opportunity for children to get out of the house and learn new skills!
For more information please see this leaflet: Openshaw Arts & Play Festival (1)
Manchester info for SEND families: Summer News For SEND Families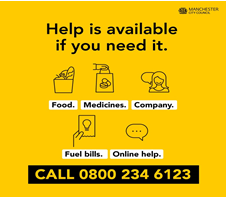 The Council has set up a hub to support Manchester's most vulnerable people, and help them cope with the impacts of the COVID19 outbreak.
We want to help you if you are:

over the age of 70, are self isolating and have no support network,
if you have received a letter from the NHS advising you are high risk, or
you are medically vulnerable according to the government criteria.
We can help with things like:

Delivery of food
Delivery of medication
Combating loneliness
Managing fuel top-up payments
Help is also available for other reasons, for example if you are a carer, care leaver or young carer.Across the City a community of charities, businesses, community groups and the Council have all come together to make sure you have the support you need during this challenging time.
If you need help you can get it now by calling 0800 234 6123.
Please click on the link if you need support-Help and support for those suffering domestic abuse during the Covid19 Outbreak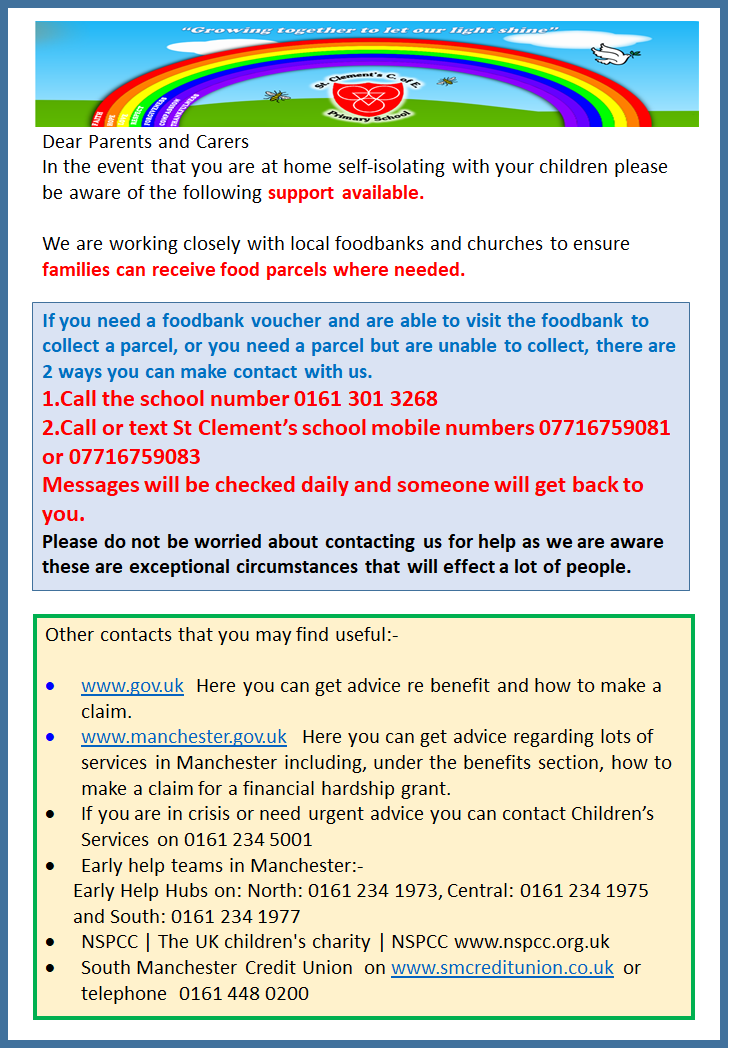 As a compassionate, Christian school, we are strong in our faith. We believe in love and forgiveness and are thankful for the opportunities we have to live and learn in our community. We encourage and inspire children to aim high and challenge themselves in everything they do.
Our school website aims to keep you informed of everything that's 'going on' and ensure all associated with the school have up-to-date information. You can check out events, as well as learn more about each year group and their curriculum each term. You will also be able to view copies of the latest letters, school policies, find information about the school clubs and activities on offer, and update yourself with the teachers, school staff, governors and members of the PTA.