Pupils
Teacher – Miss Younge
Teaching Assistant- Mrs Singh, Mrs Moss
Wow what an amazing class they are! They have come back to school after an extra-long holiday enthusiastic and keen to learn!
We have been doing handwriting, phonics, guided reading, music, Maths, writing, geography, science, PE, RE and PHSE. Wow, what a lot of work!
In geography we have learnt about where we live and looked at maps.
In science we have harvested the onions and the potatoes that we planted in March and we learned about all the different types of foods that you can cook with potatoes. We cooked and ate them too.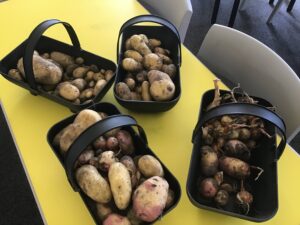 We also tasted healthy and unhealthy snacks in our writing lessons when we were learning all about the power of adjectives. We used the snacks to inspire us to think about describing, smell, taste, touch and colour.
In RE we have been learning about God the creator of the world and spent an afternoon creating our own things out of construction toys. We then chatted about how it felt to be a creator.
In Computing this term, year 2 have been building on our word processing skills including: Using the shift key to type capital letters, typing using both hands, changing the way our text looks and touch typing skills!
On Wednesday, Year 2 enjoyed a History of Transport Experience Day as part of their topic. The children looked at past and present transport. The activities included making a timeline of how transport has changed, making hot air balloons out of paper Mache and longboats used by the Vikings – they even designed their own shields!
What a busy half term!
TOPIC NAME
Science
History
Geography
Art and DT
PSHE
RE
Computing
Music
PE
MFL
Literacy
Numeracy
Year 2

AUTUMN

Flying High Explorers
Animals Including Humans Y2

Materials & Their Properties Y2

History of transport and flight and people associated with.

Christopher Columbus and Neil Armstrong

Local Map work

Identifying countries

Plot on UK and their area

Footprints on clay

Moving vehicles

Heartsmart – Get Heart smart

Heartsmart – Don't forget to let love in

The Bible and Special Books

Christmas Good news and The journey to Bethlehem

Getting to know IT – Basic skills

Word Processing

Creating Pictures

Ourselves

Travel

Toys

Number

Net Games – Striking for Accuracy

Invasion Games – Sending and receiving

n/a
Narrative space story

Star gazing poetry

Instructional writing

Way Back Home

Lost & Found

Biography work on Columbus and Armstrong.

Space timelines

Compass points

Directions
Homework Leaflet-Homework leaflet
Class newsletter: y2 newslettersautumn 12020
Take at look at what we will be looking at in Autumn Term- Y2 Topic Web Autumn2020