Pupils
Teacher: Mrs St Hill and Mr Thirsk
TA: Mrs Campbell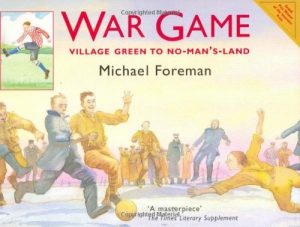 In Literacy we have been engaging in the book War Game by Michael Foreman. We have done some research about Michael Forman, which helped us understand what inspired him to write etc. So far we are just getting to know some of the main characters. We have also written some short extracts linked the beginning of the book… already we are captivated by the book and we get frustrated when Mrs St.Hill does stops reading, but it keeps us hooked!
We have been exploring and applying a range of writing lenses in our writing, and Mrs St.Hill has been really impressed so far and is enjoying watching her little authors grow into confident authors.
We are also making sure we are reading lots in year 6 and finding author's examples to show where authors have used the writing lenses we are exploring in class and using these examples to inspire our own writing.
Pupils quotes:
"I really like the theme of War Game. I will like how we explore skills on our exploring page and then apply these skills on our writing page. I have enjoyed learning about personification and pathetic fallacy and am applying this in my writing."
Rhys (10 years old)
"I like the book because I am learning more about World War. I also enjoyed looking at the posters from WW1 which made young men join the army."
Maisy (11 years old)
"I like how we are trying to use different writing lenses in our writing and we are using author's examples to inspire us too."
Promise (10 years old)
In R.E we have been learning about how Christians use the Bible and why it is important to them. We also worked in groups to design our own Bible, thinking about our audience… we had fun working together to do this!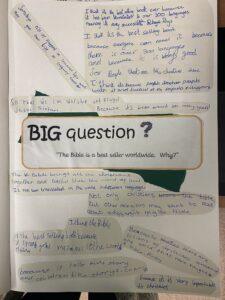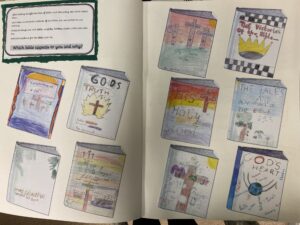 In our History sessions, we have been learning what life was like for a WW1 soldier and learning about life in the trenches, we are learning a lot of technical vocabulary linked to our topic of war.
"I have enjoyed learning about life in the trenches, I was shocked they had to live like that for years and it was very tough for the soldiers."
Mubarak (age 11)
In our art lesson, we created trench pictures using charcoal to create the dark mood and feeling of war. We also wrote prayers to the soldiers. Take a look!
TOPIC NAME
Science
History
Geography
Art and DT
PSHE
RE
Computing
Music
PE
MFL
Literacy
Numeracy
Year 6

AUTUMN

World at War
Electricity Y6

Light Y6

WW1

WW2

20th Century Conflict

Map work, local geography/ European Geography
Drawing and painting of planes

Models of working bi planes

Blitz landscapes

War time food

Heartsmart – Get Heart smart

Heartsmart – Don't forget to let love in

Why is the Exodus such a significant event in Jewish and Christian History?

How do Christians prepare for Christmas?

Code IT (game design)
Roots

Journeys

Net Games – Net Games for Points

Invasion Games – Competitive (Netball and Basketball)

Take part in conversations and begin to develop accents. Understand main points of spoken passages.
Narrative Diary extracts

Poetry (voice poems) Linked with holocaust

Journalistic writing/reports/ newspapers

Motivational speeches

Timelines for war

Computing– instructional maths vocab

Directional and compass work for geography
Homework Leaflet-Homework leaflet
Class newsletter: Autumn newsletter year 6 2020
Document showing what the children in Year 6 will look at in Autumn Term- War topic web year 6