Pupils
Teacher: Mrs St Hill and Mr Thirsk
TA: Mr Nield

This half term year 6 have continued to be motivated authors and have written a newspaper report to inform readers about the Christmas Truce. We have been practising using the formal voice and informal voice in our writing and applying a range of writing skills such as indirect and direct speech. The pupils have really enjoyed being journalists and writing about a past event from WW1 – The Christmas Truce.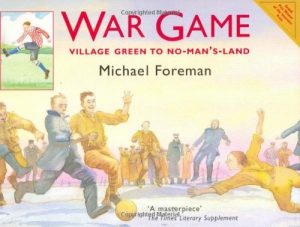 We also have been reading a range of extracts from both fiction and non-fiction books, and poetry to show the thougths and feelings of children during WW2.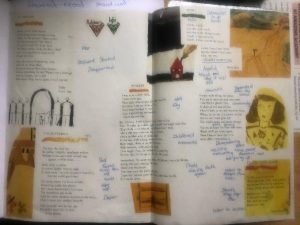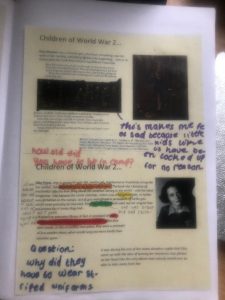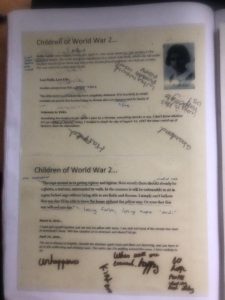 What do year 6 pupils have to say?
"I like when we read extracts about children from Wolrd War 2, but I particulary enjoyed reading extracts from Rutka Laskier (known as the Polish Anne Frank) it helped me understand what it was like for children in the war."
Neide age 11
"Writing the newspaper helped us to use our formal and informal voice and also use direct and indirect speec for different viewpoints. I enjoyed being a journalist and I feel I have developed some valuable writign skills."
Maheen age 11
"This has been mine favourite topic so far in Literacy, because I really liked learning about the war and writing about events of the war and I was interested in learing about the Holocaust during our lessons since my country (Poland) was involved."
Jakub age 11
This term in Year 6, In our History and Geography lessons we have been studying World war one. The pupils have learnt about the countries involved, What life was like for soldiers in the trenches and The key leaders. We have also learnt about the significant events in World one and when they happened.
On 9th October, Year 6 visited Tatton park, a place well known for having many links with war across the ages from the Romans through to World War two. The children took part in "defending the realm" and learnt how Britain have defended their island since the invasion of the Romans through to modern war and what it was like on the home front for British people During World war 2.
In computing, Year 6 are currently studying Coding and Programming using KODU to create 3D worlds and games.
On 13.11.19, Year 6 visited the Imperial War Museum in Salford. We looked at primary and secondary sources to learn about life during war from WW1 to modern day war.
In Science this term, the pupils in year 6 have been learning all about light, including light sources and how light travels. They have discussed, researched and thought about the theories about how light travels to the eye and how it reacts when touching an object.
In History this term, we are looking at World War 2. We carried out remembrance service at our local Cenotaph and had P4C discussion about the questions "Should we still remember?" and "Why is it important to remember?".
We have looked at key leaders during WW2 including Hitler and Churchill and their influences on the people in their country at the time. The pupils are building their skills on using sources to gain information about this important period in History. We have learnt about what rationing was, why it was important and even had a go at cooking a wartime meal with rationed foods in our D&t lessons. We have also studied the Holocaust and its affect on the Jewish people at the time.
In Religious studies, we are looking at the theme "How do Christians prepare for Christmas?". We have studied a key figures from the bible at Christmas and learnt about the advent wreath and its importance to Christians at Christmas. We were lucky enough to have a visit from our very own Reverend who came to help the pupils make their own advent wreaths as part of their art curriculum.
Homework Leaflet-Homework leaflet
Class newsletter for Year 6-Autumn newsletter year 6 2019 (1)
Document showing what the children in Year 6 will look at in Autumn Term-War topic web year 6