Pupils
Teacher: Miss Checkland
TA: Mrs Mellon, Mr Nield
Year 3 have made a fantastic start to the new school year. As well as getting used to the new classroom, routines and arrangements we have all loved being back together for another school year.

We started off our Literacy work with a very funny book called 'The Day The Crayons Quit', by Drew Daywalt. All the different coloured crayons had different problems and we really loved exploring how they tried to persuade Duncan, their owner, to change his ways. We lov
ed planning our own ideas for what might happen if there was a silver or gold crayon in the story. We then wrote our own persuasive letters to Duncan.
We then used these ideas of different colours representing different objects and feelings to create colour poems. Here are some videos of us reading our poems out on National Poetry Day in October.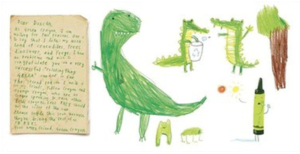 Recently we found small footprints around our classroom. Eva_Lousie bravely followed them and we found a baby rabbit, Hoppity, who had come to bring us a package of special books – The rabbit problem by Emily Gravett. We are looking forward to exploring this great picture book and using it, and Hoppity as inspiration to do more quality writing.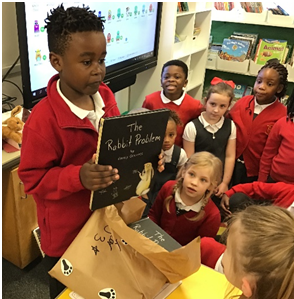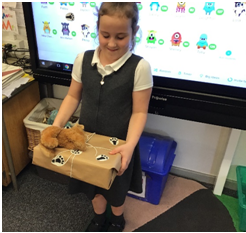 In our Maths work we started the year practising all that we know about number and place value. This meant that when we started to work with 3 digit numbers we were able to use them and explain what each digit's value was.
We are now working hard on the many different methods for addition and subtraction that we can use. We are becoming great using number lines, hundred tens and ones grids, part, part whole methods and column addition and subtraction. We are also starting to be able to explain how to use each method and make decisions about which method to use and when.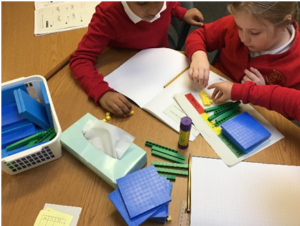 In our fast maths work we have been focussing on number bonds and number facts and how these can help us.
Example: If I know 5+2=7, I also know 50+20=70, 70-20=50, 70-50=20.
We have also been working on getting more confident knowing our 3 times table number facts. Everyone has access to TimesTables Rockstars to work on their times tables.
Science has started with a unit on Rocks and Soils. We have discovered the three types of rocks and how they are formed. We have started to learn different kinds of rocks, their properties and their uses. We have also carried out an investigation into rock permeability to see which rocks let water pass through them. We are looking forward to discovering even more about what rocks and soils contain.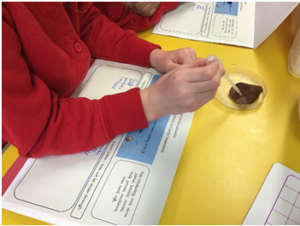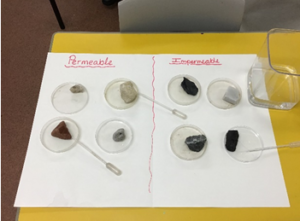 Our History work has meant that we needed to travel back millions of years to the Stone Age. We are learning about what life was like for these early humans and what they did to survive. We have started to look at how things changed during this large period of history and have started to look at Stone Age homes as an example of this. We are looking forward to finding out about this time in history. We are also going on a trip to Tatton Park to find out for ourselves what it might have been like to live a Stone Age style life. We look forward to sharing this with you soon!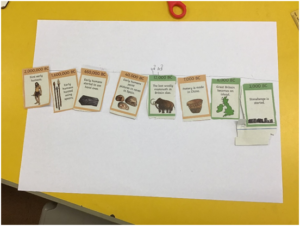 Harvest has been our first RE topic of the year. We have studied why harvest is celebrated and how these celebrations are different all around the world. As a class we brought in food and other items to share with our church and the St Clements food bank. As Philip said, "we need more thankfulness to God". Leighton added that, "sharing is caring". These are some of the things we brought in to share:

In computing this term the pupils in Year 3 have been focusing on their basic skills! They have been changing font style, colour and size and learning how to save, copy and paste images from the internet to use in word documents!
On Thursday 5th October, Year 3 had a fantastic day at Tatton Park. They started by making a human timeline and then split into three groups. They learnt about how fire was discovered and then how early man made fire themselves. They tried being gathers collecting food and then were experimental archaeologists using stone age tools to farm and plant wheat. Everyone also tried some wattle weaving and mixing and using daub to make their homes warmer. They then went further into the park to track and hunt some deer. They even hunted our own stag – Jayden!
TOPIC NAME
Science
History
Geography
Art and DT
PSHE
RE
Computing
Music
PE
MFL
Literacy
Numeracy
Year 3

AUTUMN

Rock of Ages

Rocks and Soils Y3

Light Y3

Stone age (what was life like in Manchester during this time?)

Anthony Gormley work (natural sculpture)

Cave paintings

Clay pots

Sewing

Heartsmart – Get Heart smart

Heartsmart – Don't forget to let love in

Harvest

Change the World

Change the World

Christmas: God with us

Communicate IT – Basic skills (word processing)

Present IT- powerpoint presentations

In the past

Food and Drink

Poetry

Time

Net Games – Over the Net

Invasion Games – Passing for Possession

Speaking and listening Days of week

Colours numbers

Family school

Stone age myths and legends

Stories from other cultures

Newspaper articles

Poetry

3d art work with shape and sculpture

Timelines

Statistics for science
Homework Leaflet-Homework leaflet
Class Newsletter: Class newletterYr3 Autumn 2020
Here is a document to show what Year 3 will be looking at in the Autumn Term- Stone Age topic web year 3 2020