Pupils
Teacher: Miss Nichol
TA: Miss O'connor
Year 4 have had a very busy and productive start to the new school year. I have been amazed at how well we have all settled back into our routine and I am in awe of the resilience of our children. Well done to all of you – you are fantastic!
Our first job in September was to get back into our good learning habits and that means READING! I am very pleased to say that we are all reading every day and bringing back our Reading Records regularly. This is brilliant – reading is so important and will open up so many other subjects for us. We are currently working on revamping our class library and everyone is very excited about getting and reading new books! The only downside to all this is that we are managing to empty the Clem's shop and Ms Nichol and Miss O' Connor are having to give out so many Dojo's and rewards!
Another highlight was our International Sports Day, it was great to be back enjoying sport with our friends again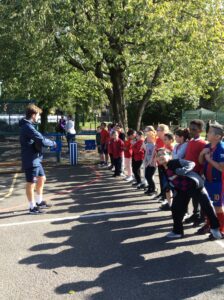 .
We started off our Vikings topic with a very interesting visit from Wayland the Viking who taught us so much about Viking life. We also had a chance to learn to fight like a Viking, to handle Viking artefacts and make Viking pots.
Here are some photos of our day:
Recently we have been working on our key history questions, exploring where the Vikings came from, why they came and when this happened. We had a great lesson on chronology this week and I was really impressed with how we used our maths skills to order events in history. Excellent work children!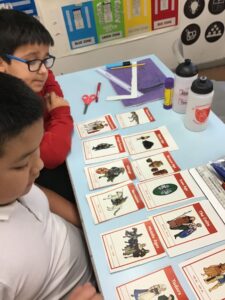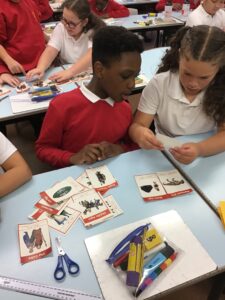 TOPIC NAME
Science
History
Geography
Art and DT
PSHE
RE
Computing
Music
PE
MFL
Literacy
Numeracy
Year 4

AUTUMN

Vicious Vikings
Sound Y4

Electricity Y4

Vikings

Local study

Local study

Viking shields

Viking Jewellery

Heartsmart – Get Heart smart

Heartsmart – Don't forget to let love in

Jesus, son of God

Christmas: exploring the symbolism of Light

Activate IT- monitoring environmental conditions

Code IT- Coding and programming

Poetry

Sounds

Time

In the past

Swimming

Net Games – Returning (Tennis and Volleyball)

Invasion Games – Dribbling, Movement and Teamwork

Speaking listening to simple words and phrases about self, family and school
How to train your dragon

Myths and legends

Imaginary worlds

Timelines

Graph work

Data handling

Positional and directional language
Homework Leaflet-Homework leaflet
Class Newsletter: Class newsletter Yr4 Autumn 20
Document showing what Year 4 will look at in Autumn Term- Topic web for vikings topic Y4