Year 6
Teacher: Miss Thompson
TA: Mr Nield, Miss O'Connor and Mrs Murphy

What a great Autumn half term we have had! We have finished the book 'Wargame' by Michael Foreman and then we watched short animation we are continuing to do some creative pieces of writing linked to this book.
I think wargame film was interesting to see what would happen next and it made me want to read on so it really had an impact on me. 
Dylan (age 10)
I enjoyed the book wargame because it made me want to read on my favourite part was when they began to fight again! However this was also a very sad part because the characters we grew to knew were tragically killed.
Taaron (age 10)
I enjoyed the Wargame animation because it made some of us cry, so it had a big impact on us. I thought the illustrations were really good. However, I didn't like that the film did not have 'Billy' in it, who was in the book.
Mckyla (age 10)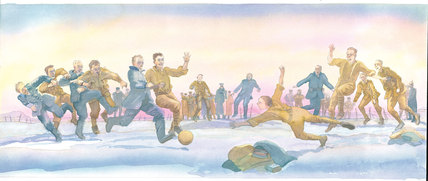 For our whole school creative write, each class had a Philosophy question to think about/discuss and debate about….our question was: Should there have been a Football Christmas Truce? We really enjoyed independently writing our views about this!
Here are some samples of work: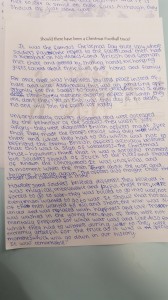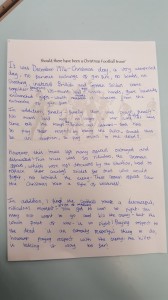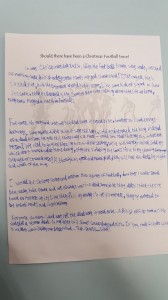 We had our experience day, we made Lancaster bomber planes – we had to use our DT skills and our speaking and listening skills for this task!
We have been working hard in Maths with our teachers and Seema from Tutor trust and finally we have mastered and subtracting negative numbers! Our arithmetic skills are really improving too!
We are working really hard in year 6 and deserve a break…but we will be ready for learning when we come back and are looking forward to our next trip to the Imperial War Museum and our next experience Day where we'll venture back in time to WW2!
Class newsletter for Year 6-Autumn term newsletter 2017
Document showing what the children in Year 6 will look at in Autumn Term-War topic web